Relax and immerse in the amazing UNESCO listed World Heritage Daintree Rainforest. Daintree Siesta is a space where you and your family can relax, unwind, connect with each other and nature while treading lightly in a peaceful and awe-inspiring environment.
Formerly known as Lync Haven
Previous guests may have known Daintree Siesta as Lync Haven – come for another visit, explore and enjoy.
Travel at your own pace by staying at our place. The Daintree Rainforest is best enjoyed slowly to immerse and take it all in.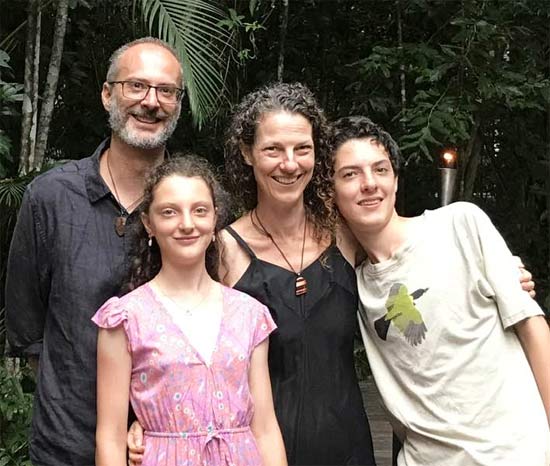 Welcome to our home - Daintree Siesta
– and your home whilst staying in the oldest rainforest in the world!
Our family – Bruno, Tamara, Nicolas, Natasha and husky, Opi, moved here at the end of 2021 as part of the COVID tree changers movement although our slow journey to this change started a few years earlier. More about us.
We would love to share this amazing place in the UNESCO listed World Heritage Daintree Rainforest with you as you stay in either our cosy rainforest campground – suitable for caravans, tents, swags, campervans and motorhomes – or our comfortable motel-style air-conditioned cabins.
What our guests say about Daintree Siesta
This place was paradise. We found it to be a rare opportunity to enjoy a very real and unadulterated version of staying in the Daintree.

The place is rustic and unpretentious. We even saw a wild cassowary!

The owner/operators are a really friendly family. We loved our stay and can't recommend it highly enough.
Spectacular surroundings and warm hospitality in an eco-friendly campground.

We spent two nights here in a campsite wonderfully surrounded by tall rainforest trees. It was a short walk to the clean conveniences and there was ample hot water.

The second night we dined in the small restaurant overlooking more rainforest. The food was good and very good value.
Beautiful campsite.

Powered sites well spaced and surrounded by beautiful Daintree rainforest.

Nice, clean, simple facilities. Has all that you need.

Owners are SO friendly, welcoming and offered lots of local knowledge. Great price. Will be back.
Very cosy and family-friendly rainforest accommodation.

Great hosts. The rooms are cosy and functional. The restaurant has tasty food for reasonable prices and prompt service. The lodge is quiet, has a playground and beautiful nature walks on site.

Very family-friendly and highly recommended, especially with young kids.
A lovely place to stay full of rustic charm.

The owners a genuinely lovely, easy going people and made us feel very welcome.

Bruno was flexible in changing our booking from camping site to cabin and went above and beyond to help us continue our holiday after a slight caravan issue.

Dinner was great, best chips we have eaten in a long time. Will definitely be back!
We could not have asked for a more idyllic place. Quietly nestled in the forest itself, Daintree Siesta was the most calming camping spot we could ask for.

The site had full bathroom amenities included as well as a powered site option - all in all great value for money.

Both owners were approachable, personable and helpful, answering any and all of our questions. It was one of the highlight spots of our trip.